Executive Summary
As enterprises of all sizes move to the cloud, the number of failed cloud implementations continues to climb. Enterprises are still looking for ways to gain control over the chaos of ad hoc, unplanned, and unmanaged adoption of cloud services, and those in enterprise IT are discovering that understanding requirements are critical to the success of cloud computing in most businesses, as are the creation of a holistic plan and architecture.
The growth of cloud computing is clear. Gigaom Research estimates that the addressable market of cloud computing will reach almost $160 billion by 2014 (Figure 1). In 2013, the addressable market will be about $125 billion.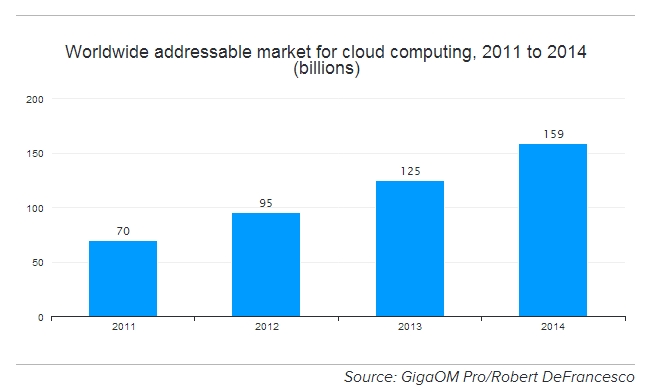 No single path to the cloud is right for every company; a growing assortment of available services could suit most use cases. Emerging cloud computing solution patterns include:
Direct peering implementations
One-stop shops that offer most cloud-based services
Cloud services brokerages that offer migration to specific cloud applications
Co-location and hosting providers that create cloud exchanges or marketplaces
Since a well-defined use case will determine the correct services, organizations moving to the cloud should understand where they are, where they need to go, and the best technological path to get there. They must also be willing to understand the existing state of enterprise IT at the most primitive levels. With that understanding, they must break apart the problem domains into component parts that they can understand, evaluate, and perhaps move to cloud-based platforms — if that proves the best path for the business.
Of course, the path a company takes is dependent on many factors, including:
The type of business and information under management
Governance, security, and compliance requirements
User expectations about ease of use and performance
While no single path to the cloud fits all organizations, many paths will allow a company to create its own thread through emerging best practices.
This research paper will provide enterprises with an understanding of the emerging paths to cloud computing as well as a methodology they can use to find their own best way to the cloud. The paper leverages information gathered through interviews with those who are working on these problems and incorporates existing research about how small and large companies have migrated to cloud-based platforms. The objective is to provide those in enterprise IT with sufficient information to begin down the path to cloud computing, with the best likelihood of success.
This research is being made available to GovCon readers compliments of Gigaom Research. More complimentary research can be found here on GovCon in our Research Channel.
To download a complimentary copy click here