Tools & Strategies for Protecting Your Agency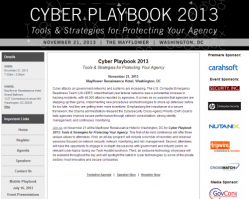 Cyber attacks on government networks and systems are increasing. The U.S. Computer Emergency Readiness Team (US-CERT) noted that last year federal networks saw a substantial increase in hacking incidents, with 48,000 attacks reported by agencies. It comes as no surprise that agencies are stepping up their game, implementing new procedures and technologies to shore up defenses before it's too late. And they are getting even more incentives. Emphasizing the importance of a secure framework, the Obama administration released the Cybersecurity Cross-Agency Priority (CAP) Goal to help agencies improve secure performance through network consolidation, strong identity management, and continuous monitoring.
Join us on November 21 at the Mayflower Renaissance Hotel in Washington, DC for Cyber Playbook 2013: Tools & Strategies for Protecting Your Agency. This first-of-its-kind conference will offer three unique values to attendees. First, an all-day program will include a number of keynotes and breakout sessions focused on network security, network monitoring and risk management. Second, attendees will have the opportunity to engage in in-depth discussions with government and industry peers on relevant cyber topics during our Tech Huddle luncheon. Third, an exclusive technology showcase will be available throughout the day and will spotlight the latest in cyber technologies by some of the private sectors most innovative and secure companies.
Register now for Cyber Playbook 2013: Tools and Strategies for Protecting Your Agency, scheduled for November 21 at the Mayflower Renaissance Hotel in Washington, DC.
Featuring Keynote Speaker– Eric O'Neill- Former FBI Operative and Counterintelligence Expert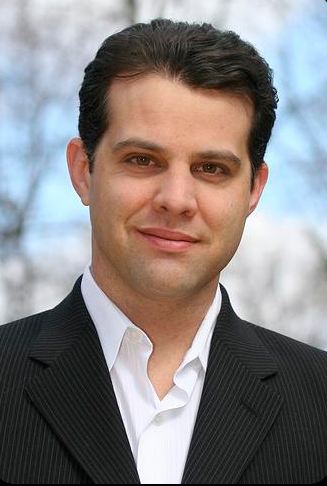 An accomplished security expert, O'Neill lectures internationally on national security, cybersecurity, fraud, and detection. He offers practical insights into real-world security challenges faced by today's government security professional.
O'Neill's keynote kicks off Cyber Playbook 2013, a first-of-its-kind conference offering participants a full day of education, focused on cyber policies, technologies, and initiatives, tailored specifically for the Federal IT community.
Participants in the Cyber Playbook 2013 event will engage in in-depth discussions with government and industry peers on security best practices, experience cyber technologies presented by some of the most innovative companies in the market, and learn valuable strategies to help improve security performance.
Agenda
07:30 am – 08:15 am – Registration & Networking Breakfast
08:15 am – 09:00 am – Morning Keynote- Eric O'Neill
09:00 am -10:00 am – Morning Plenary Session Cyber War: The New Battleground
10:00 am -10:30 am – Networking Break
10:30 am – 11:15 am – Protecting Government Systems
11:15 am – 12:00 pm – Monitoring Government Systems
12:00 pm – 1:00 pm – Tech Huddle Lunch
01:00 pm – 1:45 pm – Threat Assessment and Cyber Remediation Readiness
01:45 pm – Wrap Up & Close
For more information on event sessions click here.
Questions? Contact:
Ryon Williams
709-230-7472 (Direct)
ryon.williams@carahsoft.com
www.GovernmentITPlaybook.com

Session Abstracts
Breakout Session 1: Protecting Government Systems
To protect systems, agencies need to secure and defend their networks, and the data on them, by utilizing solutions such as endpoint security, data encryption and access management. But with so many solutions available on the market, how do you know which products and services to use, and how do you best integrate these solutions into a secure defense strategy for your agency? This panel will explore these and other questions related to safeguarding data and networks at the door – before adversaries have an opportunity to attack.
Breakout Session 2: Monitoring Government Systems
The federal government has long acknowledged the benefits of continuous monitoring, but has been slow to demonstrate the true advantages. Now faced with an increasing number of cyber attacks, agencies are quickly looking to reverse this and implement continuous monitoring methods. The recent award of the Department of Homeland Security's (DHS) Continuous Monitoring as a Service (CMaaS) Blanket Purchase Agreement (BPA) is providing a source of support. This panel will look at the current and future states of continuous monitoring, including how agencies can leverage their assets to provide real-time threat information about their networks and systems.
Closing Panel: Threat Assessment and Cyber Remediation Readiness
In 2013, the intelligence community identified cyber as the number one threat in its annual Global Threat Assessment – and for good reason. Cyber attacks, and the threat thereof, increase the risk to critical infrastructures while threatening to erode our economic and national security. To safeguard networks, agencies are working to identify cyber incidents, analyze and respond – but these measures are often limited by the agency's view into the threat landscape and the lack of validated cyber intelligence to substantiate an effective response. Once an attack is identified, agencies need to locate it, secure the vulnerable area, and deal with the aftermath of what information, if any, was compromised. This panel will take a look at agency best practices for identifying and remediating cyber attacks.
Join the Huddle at Cyber Playbook 2013
Join your colleagues for the Technology Huddle – a lively exchange of ideas on topics critical to the security of government systems and data. Choose the cyber topic that aligns with your agenda and join your peers for a working lunch featuring discussions on current challenges and priorities for government agencies. Continuous monitoring, mobile security, security event management, and Identity/Access Management are just some of the Tech Huddle Topics planned for Cyber Playbook 2013.